Cathy Heseltine
Gestalt Therapist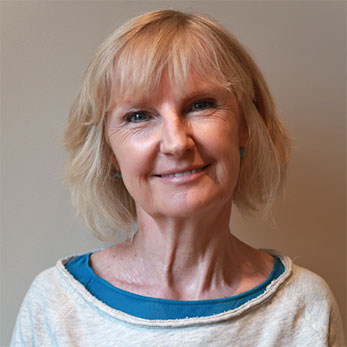 An unhealthy relationship with food can take many forms.
In my own case, I spent years eating in a way that I imagined would make me more acceptable to others and would give me control over aspects of my life which seemed out of control. Your situation is probably different. Nevertheless, it is likely that your eating habits are linked to underlying emotional needs and to the way you see yourself and the world. I believe that becoming aware of these links is the key to change.
As a Gestalt therapist, I consider that everyone has an inherent ability to live a satisfying and creative life, but that we can become stuck in fixed patterns and beliefs that get in the way.
I will not judge you. Instead I will work with you to uncover what is underlying your eating and related patterns of behaviour. I will be led by you and I will support you to develop your own insights and find those resources which will best support you to change: to become 'unstuck'.
I work in the 'here and now' as much as possible, by which I mean I notice and draw attention to what is happening in the moment, including between us, as a way of raising awareness of your patterns. I encourage an atmosphere of safety and mutual trust; I believe that this is crucial in enabling change.
Before qualifying as a Gestalt psychotherapist, my varied life experience included working in business for many years in the UK and internationally. I learned the value of diversity whilst also experiencing the challenges that being different can bring. I also learned about the personal challenges that arise from wanting to balance a professional and private life.
As a therapist, I have worked with clients on both a long and short term basis. I have worked on many different issues including childhood trauma, anger management, bereavement, identity, relationship breakdown, anxiety and depression. I have found that some of these issues can drive, as well as result from, disorderly eating patterns.
DAYS I'M AVAILABLE AT WEIGHTMATTERS
Here are the days I can see you in person or connect with you remotely
MY FEES
STANDARD SESSION
£90
STANDARD 6-SESSION BLOCK
£470
OFF PEAK
£75
OFF PEAK BLOCK
£390
QUALIFICATIONS & TRAINING
MSc and Diploma in Gestalt Psychotherapy (Metanoia Institute/Middlesex University). Including:

Working as a counsellor/psychotherapist for West London Centre for Counselling, for Woman's Trust (for survivors of domestic abuse) and for Metanoia Counselling and Psychotherapy service.
Placement at: Homerton Hospital (psychiatric unit) and Community Housing and Therapy (residential care for people with mental health difficulties).
Workshops focused on: 'working with women affected by domestic violence', 'working with violence in relationships', 'assessment and diagnosis', 'NHS for mental health', 'the threat of suicide' and 'self harm and self care'.

BA (Hons) Business Studies
MEMBERSHIP OF PROFESSIONAL BODIES
Registered member of the UK Council for Psychotherapy (UKCP)
HOW I OFFER PSYCHOTHERAPY
I work with clients across the UK, and around the world, using Skype, FaceTime & Zoom. There is no need to travel, and you can feel comfortable in your own home. It is free to set up and simple to use, so why not give it a try?
I offer sessions in English