Danielle Lee
Gestalt Therapist On Placement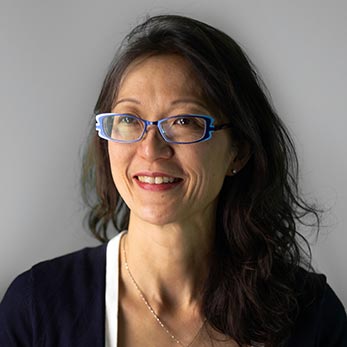 I'd like to support you to look at the roles that food and emotions play in your life, and how you can manage them more effectively to live a happier and more wholesome life.
My Philosophy
I believe that we are essentially whole, that we have a deep sense about what we need as human beings, to live happily and well. This mostly happens if we pay attention to the signals that our bodies and emotions give us.
Over time, due to our environment, circumstances, and the challenges we face, we may develop coping mechanisms that involve us doing something with the way we feel, eat, live, relate to our bodies, ourselves, with others. We may then find that the such ways of coping have become eating, drinking, thought, feeling or action patterns over time… habits, 'disordered' eating, 'addictions'. We may also suppress, distort or come to distrust the signals from our bodies and emotions then.
If you have come so far as to consider working with a psychotherapist on issues with eating or emotions, chances are that your inner wisdom has got you here.
What I would work with you on
We'll talk about what's got you to where you are and how you need or want your current wellness level to be different. I'm here to support you to get what you want. If you haven't figured it all out, that's absolutely fine – we'll figure it out together. It's your agenda for well-being that we would focus on – whether this is improving your health and nutrition, overcoming illness, loss, self-image or improving other aspects of your life such as the way you relate to yourself and others.
What would working with me look or feel like
You're likely to experience sessions with me as a two-way dialogue. We will focus on increasing your awareness about you, your coping mechanisms, eating or relating patterns – because awareness is the first step towards change.
"And now here is my secret, a very simple secret: It is only with the heart that one can see rightly; what is essential is invisible to the eye." – The Little Prince
Together, we will explore options to restore health to the various types of relationships in your life, to yourself, food, or other people. If you like body process or Mindfulness practices and are ready for them, we can incorporate these at appropriate times.
I may sometimes challenge you gently to get you out of your comfort zone or usual modes of thinking, acting or being, bearing in mind your readiness. You will have space to exercise choice, and my priority will be your safety and well-being.
A little bit about me
I am passionate about living life holistically – in a way that integrates head, heart, body and spirit. I am trained in *Gestalt Psychotherapy and Emotions Focused Therapy, and also integrate aspects of other therapeutic modalities into my work – where I think they may be helpful to my clients.
I've worked with clients with trauma and abuse in their childhood or adult life, anxiety, depression, self-harm and suicide ideation, eating issues, bereavement and loss, challenging transitions (change or loss of job, health, relationship, divorce, identity), stress (from work or life in general). I've also helped clients experiencing issues with imposter syndrome, low self-esteem or self-worth, shame, grief and anger.
I've worked and still work with clients from different walks of life, from students to parents and senior executives working in highly stressful work environments. When I'm not seeing clients as therapist, I practise as an Organisational Change consultant and coach for senior leaders in the City.
*You don't have to know about Gestalt to work with me. If you're curious, here's a brief explanation about the Gestalt approach. We focus on raising awareness to bring about change. We pay attention to the relationship between therapist and client to understand how the client relates to themselves and others, what's happening in the here-and-now (rather than digging through history). We also treat our clients as whole persons – their body and emotional experiences are as important as their thoughts.
DAYS I'M AVAILABLE AT WEIGHTMATTERS
Here are the days I can see you in person or connect with you remotely
MY FEES
STANDARD SESSION
£90
STANDARD 6-SESSION BLOCK
£470
OFF PEAK
£75
OFF PEAK BLOCK
£390
MEMBERSHIP OF PROFESSIONAL BODIES
Registered Member, MBACP, British Association for Counselling and Psychotherapy
Member, UKAGP, UK Association for Gestalt Practitioners
Fellow, Chartered Institute of Personnel and Development
Member, BPS RQTU, British Psychological Society Register of Qualifications in Test Use
HOW I OFFER PSYCHOTHERAPY
I work with clients across the UK, and around the world, using Skype, FaceTime & Zoom. There is no need to travel, and you can feel comfortable in your own home. It is free to set up and simple to use, so why not give it a try?
I offer sessions in English