Delyana Kara
Gestalt Therapist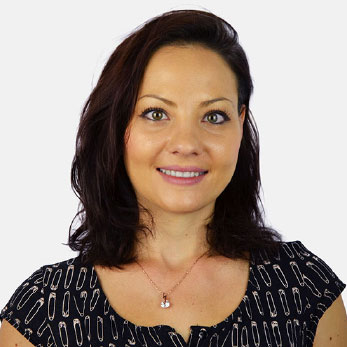 I have been working to support positive change in people's lives in a variety of fields.
I am passionate about helping people explore other ways of being and living
I have worked in criminal defence, the education system and family support. In recent years I have been working with families of children diagnosed with special educational needs. Since I began my training as a psychotherapist four years ago, I have been working therapeutically with people struggling in different aspects of their lives.
In the last year I have primarily worked with addictions. From that, I have developed a strong passion in working with people who feel stuck in a particular pattern or habit and have come to a point in their lives where they want to explore other ways of being and living. I have experienced first-hand how a difficult relationship with food and/or exercise patterns can affect a person's life and ways of being in the world.
Gestalt Therapy is a relational way of working
I am interested in challenging current unhelpful patterns of behaviour
I am currently in my final year of MSc training in Gestalt Counselling and Psychotherapy. Gestalt therapy works well in raising our awareness of the way we are in the world. With higher awareness about ourselves, we become more acute to patterns of living that can be supportive or disruptive to how fully we experience life.
When we become aware of what we find supportive and what is unsupportive, we can then see that we have a choice in what we do and how we do it. With 'choice' comes 'change', which is often the ultimate goal in therapy when we feel stuck in an unhealthy pattern of being.
Gestalt therapy is a relational way of working together, where we meet in a safe environment with the hope that we will manage to build enough trust for you to be able to explore (with awareness) your Self and the choices you have.
With choice comes change which is often the ultimate goal
DAYS I'M AVAILABLE AT WEIGHTMATTERS
MY FEES
STANDARD SESSION
£80
STANDARD 6-SESSION BLOCK
£430
OFF PEAK
£65
OFF PEAK BLOCK
£360
QUALIFICATIONS & TRAINING
2015: NCFE Level 1 in Substance misuse awareness
2015: Portage Home Visitor Training
2014: CPD Workshop in Relational Change
2013: Behaviour Management
2011 – present: MSc Gestalt Counselling and Psychotherapy – Metanoia Institute
2010: Understanding and Identifying Postnatal Depression
2010:Breastfeeding Management and Antenatal care
2010:Antenatal Management Training
2009: LLB (Hons) Law
MEMBERSHIP OF PROFESSIONAL BODIES
I am a trainee member of the UKAGP
HOW I OFFER PSYCHOTHERAPY
I work with clients across the UK, and around the world, using Skype, FaceTime & Zoom. There is no need to travel, and you can feel comfortable in your own home. It is free to set up and simple to use, so why not give it a try?
I offer sessions in English