Gemma Mitchell
Integrative Counsellor and Psychotherapist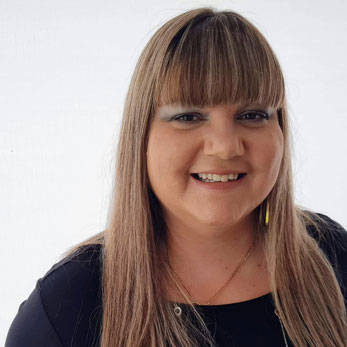 My journey with my weight has been up and down, and it has been at its highest during particularly difficult and stressful times in my life – bereavement, thankless jobs, life transitions, lockdown…
Even though I was bigger than other children in my childhood and teens, it never bothered me until I joined a slimming club at age 18. I reached a plateau with my weight which was more than 1 stone away from a "healthy BMI" and I remember feeling so frustrated and upset. It was the first time the number on the scales dictated how I felt about myself. Then, when I was 19 my best friend passed away and I don't think I was able to process the grief properly.
Throughout my 20s my weight would yoyo, I would starve and then binge, I abused laxatives, I was told by medical professionals that I needed to lose weight and was prescribed weight loss tablets, I hated myself. I joined a slimming club again, I had lost approx. 6 stone with healthy eating plus weight loss tablets and herbal remedies to speed up metabolism, but used to binge once a week after weigh in. Again, I reached a plateau and felt so disappointed in myself.
In my late 20s and early 30s I tried food replacement diets on and off, I used to lose 4 stone in 4 months and allow myself 3 months "off" in which I would gain 3 stone, then lose it again. I did finally reach a "healthy BMI" though, but it was very difficult for me to maintain and looking back, I wonder if it was too low below my natural weight, and I put most of the weight back on within 6 months. Since 2009 I have experienced gallbladder pain and what I found out to be gallstones, which most likely developed during these years of fasting diets and yoyo dieting and ultimately what I believe to be undiagnosed binge eating disorder.
These days I have more stability with my weight, and through training as a counsellor and having my own psychotherapy – I have a much improved relationship with food but more importantly myself. I have stopped feeling guilty about my weight and eating habits, but I still have work I'd like to do. I am also finally getting my gallbladder removed in June 2021! I believe it will help me let go of past baggage and the resentments which have haunted me through the years.
My Approach
Most eating problems begin with or are amplified by a stressful or distressing event. I would work to help you reflect on difficult times in your life and understand your relationship with yourself, and why you may have developed your individual ways of coping.
I am an integrative therapist, and this means I use multiple counselling approaches and techniques within my work; therefore, I can work in a way that best suits each individual client rather than be fixed to one specific mode of therapy.
My speciality is being able to sit with clients in the emotional pain they are experiencing and be alongside them whilst making sense of it together. I draw upon a range of techniques and methods to do this and always work at the pace the client feels most comfortable with. I have a strong drive to help clients work towards self-compassion and empowerment.
I have experience working in a women's only centre providing time limited IAPT therapy to women of all ages suffering from mental health issues, mainly complex trauma, sexual abuse, childhood sexual abuse, and domestic abuse. Also, a range of other problems such as anxiety, depression, bereavement, addictions, and chronic pain conditions.
I also have experience working in a University as a Specialist Mentor for students with diagnosed mental health difficulties and other chronic conditions. The mentoring role allows a more developmental therapeutic relationship where there is collaboration and support tailored to a variety of aspects of a students' life, to encourage and ultimately empower the student.
DAYS I'M AVAILABLE AT WEIGHTMATTERS
Here are the days I can see you in person or connect with you remotely
MY FEES
STANDARD SESSION
£100
STANDARD 6-SESSION BLOCK
£530
OFF PEAK
£85
OFF PEAK BLOCK
£450
QUALIFICATIONS & TRAINING
2021 – An Introduction to the Polyvagal Theory and it's uses in therapy
2021 – Diploma in the Practice of Clinical Supervision
2021 – Financial Exploitation and Abuse
2021 – Eating disorders and Trauma
2021 – IAPT Person-Centred Experiential Counselling for Depression Refresher training
2021 – Annual Autism Spectrum Awareness
2021 – Annual Domestic Abuse Awareness
2021 – Annual Safeguarding Training
2021 – DASH (Domestic Abuse, Stalking and Honour based violence) training
2021 – Working with Suicide in Private Practice
2020 – Online Counselling Skills Training
2020 – Adapting IAPT PCE-CfD for Remote Working
2020 – Domestic Abuse within the Traveller Community
2020 – Raising Awareness of Women & Gambling
2020 – Exploring mental health issues affecting the LGBT+ community
2019 – BACP Accreditation
2019 – BACP Workshop: Working with mental health in the workplace
2019 – Equality and Diversity: The role of unconscious bias
2019 – Trust as a therapeutic goal in working with complex trauma
2018 – Understanding Eating Disorders Training (CAMHS)
2018 – Transgender Awareness Training for Professionals (Gendered Intelligence)
2018 – Mindfulness Based Stress Reduction
2018 – Understanding Child Sexual Abuse
2018 – ADHD Awareness
2017 – Post Graduate Diploma in Counselling & Psychotherapy
2012 – Level 3 Certificate in Counselling Skills
2011 – Level 2 Certificate in Counselling
2004 – BSc (Hons) Psychology
MEMBERSHIP OF PROFESSIONAL BODIES
Accredited Member of the British Association of Counselling and Psychotherapy (MBACP Accred)
HOW I OFFER PSYCHOTHERAPY
I work with clients across the UK, and around the world, using Skype, FaceTime & Zoom. There is no need to travel, and you can feel comfortable in your own home. It is free to set up and simple to use, so why not give it a try?
I offer sessions in English
LET US EXPLAIN HOW WE CAN SUPPORT YOU
Talk with our assessment team, who can listen to your story and needs, and help you find the right practitioner for you, and book you in for a Free 30 Minute session to meet with one of our therapists.