Hema Chowdhury
Counselling Psychologist in Training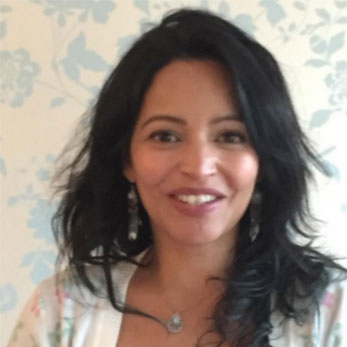 Are you struggling with your relationship with food and your body image? Our work together can explore how you can change your relationship with food and begin to feel comfortable in your own body.
Our relationship with food can be incredibly complex, not only do we eat to survive, but we eat for comfort, enjoyment and we can also restrict food to punish ourselves. If we are struggling with control over aspects of our life, we can at times try and compensate for this by exerting control over our diets and body shape and size.
Whatever you are going through, my first aim is to create a non-judgemental and trusting space for you to safely explore the difficulties in your life, whether they are current or from the past. As a Counselling Psychologist in training, I am trained in various therapeutic modalities and can adapt my approach to suit your unique needs. I have in the past struggled with food and body image and hope I can help you through your difficulties. Through an exploration of how you view food and yourself, we can come to a place where we can start to build a relationship with food which nourishes your body and enables you to live a full and energetic life without shame and guilt.
I have experience of working with nutrition to better our mental health. As Hippocrates said 'Let thy food be thy medicine and thy medicine by thy food'. I am also trained to work with individuals suffering from medically unexplained conditions like chronic fatigue, fibromyalgia (pain), IBS, skin conditions and many more. I take a holistic approach where we examine all aspects of your life, such as nutrition and physical activity, to ensure your full wellbeing. I look forward to supporting you through this difficult time.
DAYS I'M AVAILABLE AT WEIGHTMATTERS
Here are the days I can see you in person or connect with you remotely
MY FEES
STANDARD SESSION
£60
STANDARD 6-SESSION BLOCK
£330
QUALIFICATIONS & TRAINING
2019 to present – PsychD (Doctorate) in Counselling Psychology – University of Roehampton
2018 MSc (Master of Science) in Psychology – Kingston University
2002 BSc (Honours) in Human Genetics – University College London
Mindfulness based therapy
Bereavement and grief specialist
TBMA: TheBodyMind Approach – working with chronic illness and managing persistent bodily symptoms
Food and mood: Using nutrition to ensure optimal hormone production
MEMBERSHIP OF PROFESSIONAL BODIES
Graduate Member of the British Psychological Society (BPS)
Member of BPS Division of Counselling Psychology
Registered member of the British Association of Counselling and Psychotherapy (BACP)
HOW I OFFER PSYCHOTHERAPY
I work with clients across the UK, and around the world, using Skype, FaceTime & Zoom. There is no need to travel, and you can feel comfortable in your own home. It is free to set up and simple to use, so why not give it a try?
I offer sessions in English
LET US EXPLAIN HOW WE CAN SUPPORT YOU
Talk with our assessment team, who can listen to your story and needs, and help you find the right practitioner for you, and book you in for a Free 30 Minute session to meet with one of our therapists.