Irene Stoppoloni
Existential-Integrative Therapist On Placement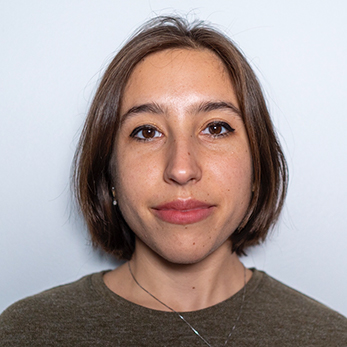 My approach to therapy
I practice existential therapy, which is inspired by the philosophers of the the 20th century like Heidegger, Sartre and De Beauvoir. Since then, existentialism has been picked up by more recent thinkers and has been translated into psychotherapy work, for example by Yalom in the US or Van Deurzen and Spinelli in the UK.
Although it might sound very lofty, existential therapy is actually really down to earth. The focus of the sessions are on where and how you find meaning in life, what values you hold and how they help you make decisions. It's a great approach for those who find themselves at a crossroads in life or who want a greater sense of authenticity in their relationships.
I believe that our relationship with our body is key to our sense of self and it is something that can be strengthened and nourished in therapy.
I wish people knew that therapy is not a last resort or something for those who have 'something wrong with them'. Therapy is for anyone who wishes to know themselves and live a more authentic life and it does not equate being 'weak' or 'crazy' – it actually is a real sign of strength to me.
My qualifications
I have trained at an established London university where I have achieved a Masters degree and am now currently working towards my Advanced Diploma.
I am registered with the BACP as an individual member and the UKCP as a trainee member.
My own experience
I have learned that there are no scary monsters once you look 'underneath the bed'. When I first started therapy, I was terrified at the idea of what I might find and that if I'd open the Pandora's box I would never be able to close it. Nothing like that ever happened. My therapist held for me a safe space where I could go in and out of the dark places and always felt in control. She held for me a relational space where I knew I was setting the pace of our exploration.
I have personal experience of disordered eating and have seen people I love struggle with weight and their relationship with their bodies. I understand how important it is to feel seen in this struggle and to find somewhere to express one's worries and anxieties.
DAYS I'M AVAILABLE AT WEIGHTMATTERS
Here are the days I can see you in person or connect with you remotely
MY FEES
STANDARD SESSION
£60
STANDARD 6-SESSION BLOCK
£330
QUALIFICATIONS & TRAINING
2021-Present – Advanced Diploma in Existential Psychotherapy, Regent's University London
2018 – 2021 MA in Psychotherapy and Counselling, Regent's University London
2016 – 2028 HNC in Counselling, Destiny College Glasgow
2011– 2015 Bachelor of Arts – EU studies, French and German, University of Edinburgh
MEMBERSHIP OF PROFESSIONAL BODIES
Trainee member of the UKCP (UK Council of Psychotherapy)
Individual BACP member (British Association for Counselling and Psychotherapy)
Member of the SEA (Society of Existential Analysis)
HOW I OFFER PSYCHOTHERAPY
I work with clients across the UK, and around the world, using Skype, FaceTime & Zoom. There is no need to travel, and you can feel comfortable in your own home. It is free to set up and simple to use, so why not give it a try?
I offer sessions in English
LET US EXPLAIN HOW WE CAN SUPPORT YOU
Talk with our assessment team, who can listen to your story and needs, and help you find the right practitioner for you, and book you in for a Free 30 Minute session to meet with one of our therapists.