Isabelle Nussbaum
Integrative Psychotherapist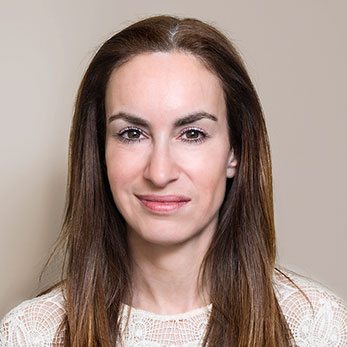 I would love to explore your relationship with food and help you to discover a healthier and happier way of living
My relationship with food, bodyshape and weight
During my teens I was part of a group of girls who were obsessed with their looks and being slim. In order to be 'one of them and look like them' I put myself on an ongoing diet which included constantly calculating calories, avoiding at all costs any food that might result in weight gain and starving myself. Although, I liked how I looked, I felt increasingly depressed and anxious and with little energy to deal with my day to day life.
Over time I realised that my unhealthy eating pattern was my way of coping with painful emotions that I wasn't able to notice or name while at the same time fearing the consequences of expressing these emotions.
Things started to shift when I entered my first serious relationship and I was finally feeling safe enough to express all of my feelings including the unpleasant ones and becoming more conscious of my relationship with my body and food.
This was a beautiful starting point of self-discovery and helped me gradually to re-establish my relationship with my body and wellbeing. When I later on embarked on my psychotherapy training I was able to dive deeper and further my understanding of how imbalanced eating behaviours have an impact on bodily and mental health. All these valuable experiences and my personal journey have provided me with the necessary tools to support others on their respective journeys.
How I work
I am a qualified and experienced bilingual, integrative psychotherapist. The integrative perspective allows me the flexibility to use different therapeutic tools and approaches in order to meet your individual needs as a client.
I work relationally and inter-subjectively, believing that a therapeutic relationship is co-created, by both therapist and client.
I strongly believe that a safe and non-judgemental space is the foundation for your emotional healing and helps to create a secure enough working alliance in order to understand your relationship with food, eating, weight and body shape.
In our work together I am interested in exploring your eating pattern habits you have formed over time, where you feel stuck and what triggers you into certain eating behaviour. I am interested in knowing more about how your emotions are connected with your eating behaviour and how together we can find new ways of managing your emotions, thereby building stronger emotional resilience. I will also be interested in learning about and exploring your lifestyle, the different factors which influence your life today and how all this may have an impact on how you eat and cope with life. All this will allow us to help you to create new coping skills with the aim of lasting positive change.

DAYS I'M AVAILABLE AT WEIGHTMATTERS
Here are the days I can see you in person or connect with you remotely
MY FEES
STANDARD SESSION
£100
STANDARD 6-SESSION BLOCK
£530
OFF PEAK
£85
OFF PEAK BLOCK
£450
QUALIFICATIONS u0026amp; TRAINING
2019-EFT (Emotion Focused Therapy) level 1-ISEFT
2019- Trauma Informed Stabilisation Treatment: Working with Substance Abuse, Eating Disorders, Compulsive Self-Harm and Suicidality-Psychotherapy Excellence
2019- Running 12 Step program groups-Priory Hospital North London
2018- Central and North West London NHS Foundation Trust-mandatory training in:
Equality, Diversity and Human Rights
NHS Conflict Resolution
Safeguarding Adults
Preventing Radicalisation
Safeguarding Children
2017-2019-Diploma in Spiritual Development- Brenda Davies School of Healing &Spiritual Development
2017- Congress Attachment and Trauma The resilience of mind and body-ISC international
2017- Introduction Course Domestic Violence and Abuse- JWA
2014- Sexual Abuse-Birkbeck Counselling Association
2011-2017 MA in Integrative Psychotherapy and Counselling- The Minster Centre
2014-Diploma in Integrative Counselling- The Minster Centre
2011- Certificate in Psychotherapy and Counselling- Regent's University
MEMBERSHIP OF PROFESSIONAL BODIES
UKCP (accredited and registered)
BACP (member)
The Minster Centre
HOW I OFFER PSYCHOTHERAPY
I work with clients across the UK, and around the world, using Skype, FaceTime & Zoom. There is no need to travel, and you can feel comfortable in your own home. It is free to set up and simple to use, so why not give it a try?
I offer sessions in English