Jemma Byrne
Health Psychologist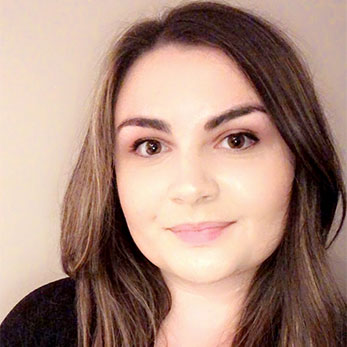 As a Health Psychologist, a significant part of my work revolves around understanding health related behaviours and the underlying factors involved in managing physical health and emotional wellbeing. This often involves taking a whole systems approach where I may work with you to consider the biological, psychological, social (sometimes referred to as biopsychosocial) factors involved in the emotional or behavioural difficulties you may be experiencing in relation to food. That can then allow us to begin to identify the way forward in resolving the difficult thoughts and or behaviours you may be seeking to change in relation to food.
My ethos and approach
I believe each person and their situation is as unique as their DNA where every individual may require something different. I will therefore work with you in a person-centred way to identify your specific wishes and needs. I am grateful for the work that I do and I am appreciative of the challenges and struggles that can accompany the task of seeking support in making significant changes. I therefore recognise and prioritise the importance of providing a safe, non-judgemental space and building a trusting, therapeutic alliance with you in the first instance. This is particularly important as we will work very collaboratively. In addition, I am trained in several therapeutic approaches including Person-centred therapy and Cognitive Behavioural therapy where we may tailor our work together based on the changes you would like to make.
Professional and personal experience of complex weight and food related behaviours
My interest in eating and weight related behaviours relates to my own experience of emotional eating and self-image associated with weight. Over the years, particularly during my adolescence and teenage years, I have experienced the pressures and challenges of being exposed to "diet culture". This caused me to engage in dieting, restricting calories or food types and consequently developed unhelpful thoughts about food and negative perceptions and beliefs about myself. It's taken several years of patience, education and self-exploration to understand nutrition, unhelpful dieting and its implications for both my physical and mental health. I now have a much better relationship with myself and with food, recognising its purpose is for nourishment and not as a reward or to be viewed as "good" or "bad".
Professionally, I have experience of working with individuals wishing to make dietary changes including within the context of bariatric surgery. In light of both my personal and professional experience, I recognise that making changes to the relationship we have with food can be a daunting mission since eating is a central part of every day life. However it is my aim to work sensitively and collaboratively with you to empower and equip you in achieving your goals, no matter how difficult you may initially believe them to be.
DAYS I'M AVAILABLE AT WEIGHTMATTERS
Here are the days I can see you in person or connect with you remotely
MY FEES
STANDARD SESSION
£120
STANDARD 6-SESSION BLOCK
£630
OFF PEAK
£105
OFF PEAK BLOCK
£540
QUALIFICATIONS & TRAINING
Undergraduate degree in Psychology (MA with Honours) 2014, University of Glasgow
Doctorate in Health Psychology (DPsych Health Psychology) 2020, Glasgow Caledonian University
Introduction to Polyvagal theory (Bright Light Counselling Service)
Adult safeguarding (level 3) (Espirita)
Child protection (level 3)(Espirita)
Basic Life Support and First Aid training (Espirita)
Equality and Diversity in the workplace training (Espirita)
Introduction to teaching Skills (GCU)
Bereavement trained (Marie Curie)
Mental Health First Aid (NHS Scotland)
Relationship First Aid (The Spark Relationship Counselling Service)
HOW I OFFER PSYCHOTHERAPY
I work with clients across the UK, and around the world, using Skype, FaceTime & Zoom. There is no need to travel, and you can feel comfortable in your own home. It is free to set up and simple to use, so why not give it a try?
I offer sessions in English
LET US EXPLAIN HOW WE CAN SUPPORT YOU
Talk with our assessment team, who can listen to your story and needs, and help you find the right practitioner for you, and book you in for a Free 30 Minute session to meet with one of our therapists.