Jessica Gash
Counselling Psychologist in Training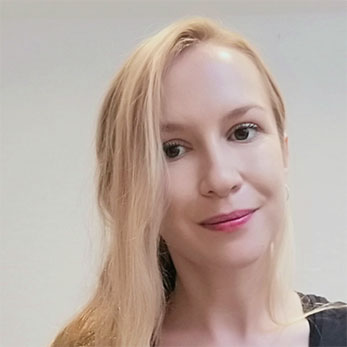 My focus is to support you holistically on your unique journey towards a healthier relationship with food and body and in establishing a balance which feels right for you.
MY APPROACH TO THERAPY
As a Counselling Psychologist in training, I combine various counselling skills to suit your individual needs. My therapeutic approach is based on creating an empathic, safe space for you to nurture self-awareness, explore, resolve or reconcile with troubling or distressing feelings and experiences. As a member of the British Psychological Society, Division of Counselling Psychology, I offer an integrative, holistic approach of one-to-one talking therapy. This means I draw from a variety of different theoretical approaches including Person Centred, Psychodynamic and Cognitive Behaviour Therapy, depending on your needs and preferences.
HOW WE WILL WORK TOGETHER
I believe that developing a strong, trusting and authentic therapeutic relationship is central in each psychotherapy encounter. This means that I would like to explore your present individual experiences, beliefs, emotions, and perspectives before we collaboratively establish the therapeutic modality which may benefit you. I believe it is also important to understand your past lived experiences, so to better understand your current difficulties. Therapy provides the opportunity to speak about feelings and experiences that are most distressing to us within a safe, private and confidential space. I understand that therapy may feel a daunting experience and aim to support you on this journey by offering a containing, empathetic and compassionate space wherein we may progress at a pace that best suits you.
MY EXPERIENCES
My personal lived experiences have given me an insight into how our complex relationship with food and body image can lead to profound difficulties both in how we experience ourselves and the world around us. Personal journeys have over time allowed me to appreciate how developing a healthier relationship with food and body image can promote our emotional wellbeing and quality of life.
I believe my personal and professional experiences have rendered me a more compassionate practitioner, committed to promoting sustainable change and a healthy relationship with food and our bodies. I have learnt that challenging thoughts and assumptions and searching for doubt in how we create meaning is essential when exploring positive change. I hope that every person I work with will reach a place where they are able to flourish.
A BIT MORE ABOUT ME
My personal and professional values and experiences have led me to adopt a more humanistic and relational stance. In my practice, I have worked with clients presenting with various psychological difficulties such as complex trauma, anxiety, OCD, depression, relationship difficulties, bereavement, low self-esteem, suicide ideations and eating issues.
DAYS I'M AVAILABLE AT WEIGHTMATTERS
Here are the days I can see you in person or connect with you remotely
MY FEES
STANDARD SESSION
£60
STANDARD 6-SESSION BLOCK
£330
QUALIFICATIONS & TRAINING
2019-Present – Doctorate in Counselling Psychology (Final Year), University of Roehampton, London
2011 BSc (Hons) Psychology, University of Bath
Dialectical Behavioural Therapy (Dr Christine Dunkley)
Acceptance and Commitment Therapy (Dr Joe Oliver)
MEMBERSHIP OF PROFESSIONAL BODIES
Graduate Member of the British Psychological Society (BPS)
Member of the BPS Division of Counselling Psychology
HOW I OFFER PSYCHOTHERAPY
I work with clients across the UK, and around the world, using Skype, FaceTime & Zoom. There is no need to travel, and you can feel comfortable in your own home. It is free to set up and simple to use, so why not give it a try?
I offer sessions in English
LET US EXPLAIN HOW WE CAN SUPPORT YOU
Talk with our assessment team, who can listen to your story and needs, and help you find the right practitioner for you, and book you in for a Free 30 Minute session to meet with one of our therapists.