Rebecca Warren
Nutritional Therapist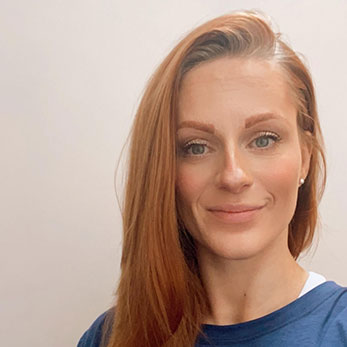 My own relationship with food and body image has been strong and complex. Having danced since I was young, body shape was always a focus.
When hormones kicked in early and my energy needs changing, I found myself overeating. All pocket money being spent on sweets and chocolates. Things I wasn't allowed at home.
Having been made aware of my size from this impressionable age by both family and peers; teen years and early adult years were plagued with emotional conflict of restrictive behaviour cycles.
As weight piled on early on, support was offered in the form of weight management groups in my early teens. Feeling embarrassed and angry, I found the cycle got worse.
Despite losing weight in my mid-teens, I still faced bullying and felt isolated on a daily basis which further caused pain and confusion.
I used performing as a form of expression. All of my emotions were felt and seen on stage.
When the option of going down this route professionally was taken away (or so I believed all those years ago), I fell into studying Law and on graduating, worked in the City as a Loss Adjustor but knew deep down, my needs were not being met and I took my leave when an opportunity arose to move to Italy for a year.
It wasn't until I fell pregnant with my first daughter, that I started to enjoy and love my body. To see the beauty in change and actually allow myself to heal. But healing hurt and it was lonely as I didn't have the support of trained therapists. I did, however, have my husbands support. Family and friend support is so important in all forms of healing.
I wish I had, had access to Psychotherapists, Dieticians and Nutritionists then. To share, to work together and to heal with support.
Why did I decide to recover?
Because I didn't want to be in pain anymore. I wanted to share who I truly was with those I cared for. My authentic self. To be a role model to my daughters and to have the same vigour for life that I was so desperate for.
A few years passed and after the birth of my second daughter, I moved to the Cotswolds. In amongst the madness of 2 under 4; I quickly realised that I wasn't well and was diagnosed with Lupus – a systemic autoimmune disease that occurs when the body's immune system attacks its own tissues and organs. Inflammation caused by Lupus can affect many different body systems – joints, skin, kidneys, blood cells, brain, heart and lungs.
After being exposed to numerous medications that were making my body slow down and feel worse, I took it upon myself to make changes. After attending a weekend lecture on Nutrition, I knew there was more to it and was desperate to heal myself and in the long term, aid others.
The decision for me was whether I retrained in Psychology or Nutrition. As I had been fortunate to learn Psychology at A level (all those years ago), I made the decision to throw myself into becoming a Registered Nutritional Therapist.
I walked away from the life we knew, retrained with the prestigious Institute for Optimum Nutrition; completing the 4-year Diploma in Nutritional Therapy. Training in functional medicine principles; a science based approach that determines the underlying causes of health problems and implements programmes to support and improve health and wellbeing.
I continue to undertake postgraduate training on a regular basis to ensure that my knowledge is in keeping with relevant scientific requirements within Nutrition and my specialisms.
I am currently undertaking The Master Practitioner course with The National Centre For Eating Disorders. A programme approved by the British Psychological Society Learning Centre and by the Royal College of Psychiatrists.
I believe individual care is vital. That each one of us deserves the time and space to explore our needs and requirements; both physiologically and psychologically.
My passion for the restorative power of food, nutrients and lifestyle is immeasurable.
Having experienced these effects first hand – I draw on these experiences when working with clients, which enables support throughout our time together.
Nutritional therapy enables us to work together; looking reasons why you are feeling the way you are – to establish where and why things may have happened and seek the root cause of the illness which can include stress, poor nutrition, allergens, toxins, genetics and your microbiome.
Looking at the biochemical processes gives us a wonderful base in which to start your healing process, inside – out.
My approach is personal, supportive, results – driven and science based. Using only proven and effective nutritional protocols and the most up – to – date diagnostic tools; I work with incredible clients, alongside a wonderful team of therapists; to transform your current health situation and enable lasting change and powerful results.
DAYS I'M AVAILABLE AT WEIGHTMATTERS
Here are the days I can see you in person or connect with you remotely
MY FEES
90 min consultation
£120
60 min follow up
£100
40 min follow up
£80
Qualifications & Training
2020 Master Practitioner Programme, Eating Disorders & Obesity, National Centre for Eating Disorders
2019 Practitioner Programme, Eating Disorders & Obesity, National Centre for Eating Disorders
2019 Nutritional Therapy Diploma ION
2016 FdSc ION
2012 Level 4 PT; Nutrition Advisor, Pre and post natal exercise specialist
2007 LLB (Hons) UCLAN
Membership of Professional Bodies
HOW I OFFER NUTRITIONAL THERAPY
I work with clients across the UK, and around the world, using Skype, FaceTime & Zoom. There is no need to travel, and you can feel comfortable in your own home. It is free to set up and simple to use, so why not give it a try?
I offer sessions in English
LET US EXPLAIN HOW WE CAN SUPPORT YOU
Talk with our assessment team, who can listen to your story and needs, and help you find the right practitioner for you, and book you in for a Free 30 Minute session to meet with one of our therapists.