Counselling & Psychotherapy Offer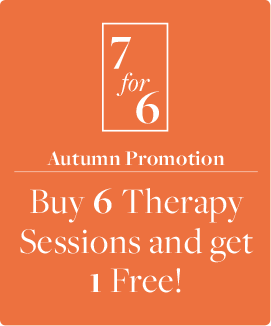 Come for regular sessions of counselling and psychotherapy, and when you purchase your initial block of 6 sessions, get your 7th session FREE!
Our targeted therapy sessions will focus on the weight, food, eating, body and mental health issues that are keeping you stuck in unhelpful patterns of behaviour. We will support you in understanding some of the themes that are maintaining your struggle with weight, and show you how to work through them.
We can help you with binge eating, depression, bulimia, anxiety and all other psychological issues that are affecting your relationship with food and eating.
Getting Started
This is how our therapy promotion works:
Step 1
Complete the form below and we will arrange an initial FREE 15-minute assessment call with you
Step 2
We will book you in for a FREE 30-minute session with one of our therapists
Step 3
When you start therapy with us, buy a block of 6-sessions, and get one session FREE
Terms & Conditions
Offer runs from 15th October to 30th November 2017
Promotion available with all therapists, except James Lamper Sessions are available Monday to Saturday
Your initial 6-session block must be paid for in advance
1-session free is only available with the first block of 6-sessions purchased