Farah Younes
Registered Clinical Dietitian
Specialist Weight Management Dietitian
Specialist Eating Disorders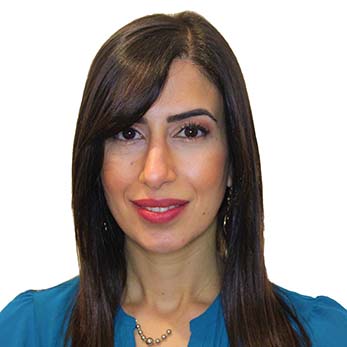 My Passion
My passion for nutrition and dietetics comes from a deep desire to transform lives. I am fascinated with the power of nutrients and healthy habits in preventing and managing disease. I truly enjoy empowering clients and seeing them become happier and healthier versions of themselves.
My Journey
I earned my BS in Nutrition & Dietetics form the American University of Beirut, Lebanon with High Distinction. After that, I worked in both hospital and private settings where I managed patients with a multitude of conditions in need of nutrition support.
After moving to London, I became a Registered Dietitian with the Health & Care Professionals Council and currently I also work as an Eating Disorders Specialist Dietitian at a private hospital.
During my extensive experience as a dietitian, I have used evidence-based guidelines and up-to-date literature in addition to my own experience, to provide Medical Nutrition Therapy and counselling for various medical conditions and diseases including:
Weight management such as bariatric, obesity and overweight.
Behavioural health such as depression, eating disorders and disordered eating.
Woman's health such as PCOS, fertility, hormone balance and pregnancy.
I also have significant experience in effectively using the media to reach out to the public and deliver key nutritional education messages. I have co-hosted several health radio programs in Lebanon and appeared on multiple regional TV shows. This made me aware of the importance of utilizing these tools and I have since been actively engaged on online platforms where I have given courses and training programs as well as consultations.
How we will work together
During the initial appointment, I will conduct a thorough dietetic assessment. We will go through the food you eat, symptoms you experience, medical history, eating habits and lifestyle. Using this information, I will analyse your nutritional status and health concerns. Together we will develop a plan to address them, which will be detailed in your initial report. The follow up appointments are for reviewing your progress, solving any difficulties and providing you with the support and motivation needed to achieve your goals.
How I can support you
It is my continuous aspiration as a dietitian to empower you and be your guide on this health transformational journey. Together we will explore the power of nutritious food and healthy eating habits. I also utilize psychological and behavioural change techniques in addition to nutrition education to ensure you get life-changing results.
Special Areas of Interest
I am a Registered Dietitian with the Health & Care Professionals Council and a full member of the British Dietetic Association. I have extensive experience in obesity management and special interest in bariatrics, eating disorders and woman's health. I am fluent in both English and Arabic.
DAYS I'M AVAILABLE AT WEIGHTMATTERS
Here are the days I can see you in person or connect with you remotely
MY FEES
90 min consultation
£195
60 min follow up
£180
40 min follow up
£150
30 min follow up
£110
20 min follow up
£90
HOW I OFFER PSYCHOTHERAPY
I work with clients across the UK, and around the world, using Skype, FaceTime & Zoom. There is no need to travel, and you can feel comfortable in your own home. It is free to set up and simple to use, so why not give it a try?
I offer sessions in English
LET US EXPLAIN HOW WE CAN SUPPORT YOU
Book a call with our friendly assessment team, who can listen to your story, help you find the right practitioner, and book you in for a discovery session to meet with one of our therapists.
We value being clear and open about our prices, so please check Our Fees before booking a call.