Teri Spinks
Trainee Therapist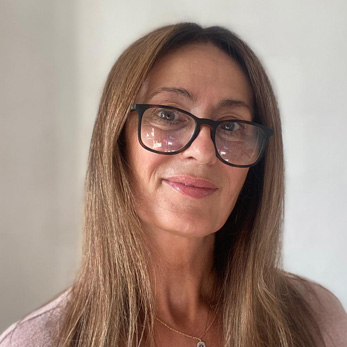 Bio
I have a holistic approach to therapy, with an extensive tool-kit to work with you to help you discover what it is you want to achieve, and how to get there. Having 25 plus years experience of working in Complementary Therapies I understand the mind/body connection very well. What you think, you feel, your body responds to. I understand the effects of stress and what toll this has on our psyche and our physical health. My areas of interest and experience lay with trauma, childhood traumas, anxiety and panic attacks, PTSD, sexual abuse, grief and loss.
My approach is very flexible, I am down to earth, compassionate, I have a sense of humour, i'll also laugh, probably cry, and celebrate with you. Therapy can be rewarding, challenging and humbling but we can also have fun too. Ultimately my aim is for you to get balance back in your life, taking a holistic approach and giving you some headspace where you have the freedom to make healthy choices for you, maybe for the first time, without guilt or shame. There are many reasons we eat – not just for survival.
Changing your relationship with yourself will change your relationship with food.
My History
I have been running my own private psychotherapy practices since 2020 and holistic therapies since 1996.
As a holistic therapist for over 25yrs, initially I discovered Reflexology in 1994, I found it so rewarding, and my passion grew from there. I studied complementary therapies, working with stress, pain, mobility, posture, pregnancy & fertility, autoimmune conditions and many more, and continued in my studies and practise working with a chiropractor until around 2018. In that time I also fell in love with Reiki, The Emotional Freedom Technique, Mindfulness and officially started my hypnotherapy and psychotherapy training in 2017. I use all these experiences to inform my approach to counselling.
I have engaged with counsellors on my own journey through life at various different stages in the past, so I understand the vulnerability and stress we can experience at times in our life when we need change.
Trauma and painful experiences can live in the body memory and can trigger responses that we don't want or frighten us. Becoming aware of these responses can give you the freedom to make changes and healthy choices going forward. I will be with you every step of the way. I work to educate and empower the individual. I am endlessly curious as you will see from my qualifications / CPD work. I love learning and I shall love learning about you, together.
As part of my Psychotherapy training I was on placement with a charity who worked with Adults Sexually Abused as Children. I also volunteered at a local Hospice for 1 year offering telephone counselling to bereaved families in my local community.
MY FEES
STANDARD SESSION
£65
STANDARD 4-SESSION BLOCK
£240
QUALIFICATIONS & TRAINING
March 2022 CBT Practitioner    Academy of Modern Applied Psychology
2015-2020 Advanced Integrative Counselling psychotherapy     Chrysalis Lvl 4 Aims  
Feb 2018 Therapeutic Hypnotherapy & Counselling     Chrysalis Aims Lvl3  
2015 Mindfulness Meditation Teacher Diploma
2014 Advanced EFT practitioner lvl 3 AAMET
CPD
Sept 2023 Christiane Sanderson Intensive Trauma informed Practice, treating complex PTSD                                            
Ongoing Gabor Mate – Compassionate Inquiry Master Class, for healing anxiety, addictions, ADHD and more
Ongoing IFS Immersion: integrating internal family systems (IFS) across clinical applications.
Ongoing Elliot Connie's Solution Focussed brief therapy certification course lvl 1 Ongoing. 
May 2023 Introducing creative arts in counselling                                                                   
May 2023 Working with the inner child
May 2023 Counselling for chronic illness
March 2023 Applying attachment theory in Counselling
July 2023 Intrusive Thoughts, MBB workshop July 2023
April 2023 Culturally sensitive approach to trauma healing (IFS)
March 2022 Sex in Counselling
August 2022 Working with anxiety disorders and supportive strategies
August 2022 Understanding and managing loneliness
March 2022 Building relational depth with traumatised clients
March 2022 Recognising & working with Narcissistic Personality Disorder
Jan 2022 Working with Dissociative Disorders In Clinical Practice-Carolyn Spring –
Jan 2022 Child sexual Abuse – Hope for Healing – Carolyn Spring
August 2022 Working with Eating Disorders
April 2022 Dealing with Distress – Working with Suicide & Self Harm
November 2021 Tackling destructive thought patterns 
October 2021 Building relational depth with traumatised clients
March 2020 Working with Implicit and Explicit patterns of relating
March 2020 Working with Loss & Bereavement        
May  2021 Working with clients who self harm
April 2020 Counselling for Chronic Illnesses
Accreditations
Accredited with NCPS Counselling Society
HOW I OFFER PSYCHOTHERAPY
I work with clients across the UK, and around the world, using Skype, FaceTime & Zoom. There is no need to travel, and you can feel comfortable in your own home. It is free to set up and simple to use, so why not give it a try?
I offer sessions in English
LET US EXPLAIN HOW WE CAN SUPPORT YOU
Book a call with our friendly assessment team, who can listen to your story, help you find the right practitioner, and book you in for a discovery session to meet with one of our therapists.
We value being clear and open about our prices, so please check Our Fees before booking a call.