Helen West
Clinical Dietician
Specialist Eating Disorder Dietician
Metabolic Balance Coach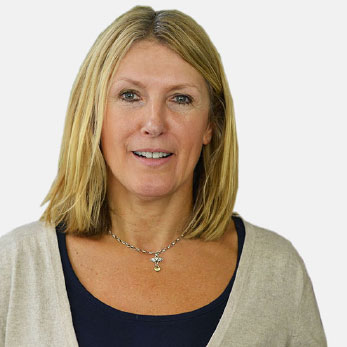 I love food and my passion for great ingredients led cooking, started as a very small child helping my grandmother make cakes. Throughout my life, I've always been aware of the positive, medicinal benefits that a healthy relationship with food can bring and after years of experience and fine tuning I've found the balance that works for me.
My passion
My primary focus from our very first meeting is to guide and support you towards YOUR optimum health and I employ my twenty years of practical and academic experience to help you reach your goals. Although there are general targets most people want to achieve, there is never a typical solution, so we may work together using the Metabolic Balance programme, or in conjunction with one of Weight Matters therapists to address disordered eating, or you may need help with clinically diagnosed gut related conditions. In every case, my aim is to empower you to celebrate lifestyle change and appreciate a new, life-long connection with food.
MY AIM IS TO EMPOWER YOU TO CELEBRATE LIFESTYLE CHANGE AND APPRECIATE A NEW, LIFELONG CONNECTION WITH FOOD
My Journey
I knew when I left school that I wanted to be involved with food in some way so I qualified as a caterer aged 17 and after 8 years of working in the industry I decided to move away from every day cooking. After working 6 years in London, collecting multiple skills and experiences along the way, I knew it was time to reignite my passion for food but not necessarily through cooking.
So in 1991, I returned to education and trained as a dietician at the University of North London. I qualified in 1996 with an honours degree in human nutrition and dietetics and have worked for the NHS and privately for the last 20 years as a Clinical Dietician.
In 1999 I qualified as an accredited Sports and Nutrition dietician allowing me to give advice to sports devotees both serious athletes and the recreational enthusiast. To optimise training the balance between exercise and diet is key for the body to run at its maximum efficiency. In 2001 I trained as an Advanced Hypnotherapist to complement the additional training around behaviour change I had acquired over the years. Hypnotherapy can be particularly effective for stopping smoking, weight related problems and stress & anxiety. During 2004-2006 to build-on and expand my professional skills I gained an MSc in the psychological approaches to health and management.
My particular areas of professional interest and expertise are in all aspects and branches of disorded eating. Over the years both via the NHS and privately, I have seen thousands of clients and with each unique case, I add another nugget of expertise to my skills mix.
After working 6 years in London, collecting multiple skills and experiences along the way, I knew it was time to reignite my passion for food but not necessarily through cooking.
It is this rich tapestry together with continued professional training that makes me the Dietitian I am today. Last year I was invited to attend ESPEN, a 4 day conference centred on global health and nutrition delivered by field leaders from all over the world sharing the latest research and development. As my learning curve continues next year, i am very much looking forward to a qualification in Functional Medicine.
I met James at a Fitness Conference in Birmingham, in 2005. One of the keynote speakers announced that if we got the chance, we should seek out this guy who had a great maxim for healthy wellbeing. A person needed to exercise, for their physical wellness, address any psychological issues to help behaviour change and to eat healthily. I thought to myself, James is a person I need to meet, a man after my own heart. So I sought him out and introduced myself and the rest, as they say is history. Our friendship and professional alliance works because we have an optimistic, sunny disposition, mutual respect and a strong work ethic. Psychological and dietary intervention under one roof is the strength at WeightMatters and it has proven to be effective for many clients.
DAYS I'M AVAILABLE AT WEIGHTMATTERS
Here are the days I can see you in person or connect with you remotely
MY FEES
90 min consultation
£195
60 min follow up
£180
40 min follow up
£150
QUALIFICATIONS & TRAINING
2016 – Future Study – Applying Functional Medicine In Clinical Practice Conference
2016 – Psychological Strategies to Improve weight change conversations, Dr Jennifer Nash
2015 – Contributing to a Very Insightful Look at how we Should Eat as we Get Older, ESPEN – The European Society of Clinical Nutrition and Metabolism, Lisbon
2011 – FOD MAPs (reducing Fermentable, Oligo-saccharides, Di-saccharides, Mono-saccharides and Polyols in the gut), King's College, London
2010 – ILM Management Course, King's College, London
2009 – Management of Chronic Kidney Disease, King's College, London
2008 – Master Practitioners Diploma in Eating Disorders, The National Centre for Eating Disorders
2004-2006 – MSc in Psychological Approaches to Health and Management, University Of Bedfordshire, Luton
2003 – Diabetic Project Looking at Newly Diagnosed Type II diabetics in 4 GP Practices across West Norfolk, published in Practical Diabetes. Nov. 2005, University Of Bedfordshire, Luton
2002 – LEO Management Training, University Of Bedfordshire, Luton
2002 – BDA Behaviour Change Training using CBT, Interpersonal Skills, Motivational Approaches, Level 1-3 with Dietician D Pearson, University Of Bedfordshire, Luton
2003 – Change Courses Writing Business Cases, University Of Bedfordshire, Luton
2003 – Coaching Skills, University Of Bedfordshire, Luton
2002 – Writing Patient Leaflets, University Of Bedfordshire, Luton
2001 – Diploma in Advanced Hypnotherapy, Austin Training, London
2001 – Cognitive Behavioural Therapy and Weight Management Course, Weight Concern, London
2000 – NHS Foundation Management Course, covering: active listening, learning styles, motivating performance, appraisal training, presentations, developing assertiveness, team building, counselling for performance improvement, building rapport, Weight Concern, London
1998, 2000, 2000, 2005 – Working with Obese Patients 4 x 3 day courses using NLP Technique, Transform Consultancy, Leamington Spa
1996 – Presentation skills Course using Kolb Method,Transform Consultancy, Leamington Spa
Sports Nutrition Foundation
April 1996 – Accredited Sports Nutrition Dietician
MEMBERSHIP OF PROFESSIONAL BODIES
Health Professions Council
British Dietetic Association
HOW I OFFER PSYCHOTHERAPY
I work with clients across the UK, and around the world, using Skype, FaceTime & Zoom. There is no need to travel, and you can feel comfortable in your own home. It is free to set up and simple to use, so why not give it a try?
I offer sessions in English
LET US EXPLAIN HOW WE CAN SUPPORT YOU
Book a call with our friendly assessment team, who can listen to your story, help you find the right practitioner, and book you in for a discovery session to meet with one of our therapists.
We value being clear and open about our prices, so please check Our Fees before booking a call.