Olga Hamilton
Nutritional Therapist
Metabolic Balance Coach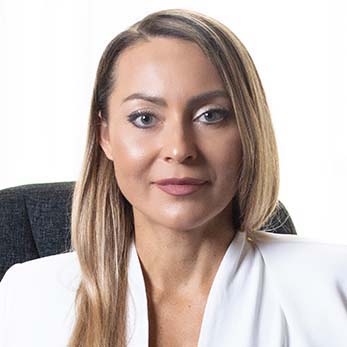 Olga has been a practicing nutritional therapist since 2012, trained in Metabolic Balance UK (weight management programme) and recently became a TEDx speaker, where she presented the latest research on the link between mental health and gut microbiome.
Olga is an expert in the use of biodata to create highly personalised nutrition programmes.
She passionately believes in the power of nutrition and the effect it has on every aspect of our health and wellbeing. Her approach is thorough and science based, applying the latest research and advances in the field of nutrition, nutrigenomics, nutrigenetics and functional medicine.
Olga works with highly complex biodata to identify imbalances within the body and rebalance them through targeted advanced nutritional interventions. This offers her clients a truly personalised approach to their health and wellbeing.
Areas Olga specialises in are:
Gastro-intestinal conditions
Weight loss
Type 2 diabetes
Mental health
Skin conditions
Hormonal issues
PMS, PCOS and menopause
Anti-ageing: CVD, Dementia and Alzheimers
Genetic testing and preventative programmes based on DNA results.
DAYS I'M AVAILABLE AT WEIGHTMATTERS
Here are the days I can see you in person or connect with you remotely
MY FEES
90 min consultation
£195
60 min follow up
£180
40 min follow up
£150
QUALIFICATIONS & TRAINING
Registered Nutritional Therapist
FdSc
DipION
PGDip Nutritional Medicine
BA (Hons)
mBANT
CNHC Registered
HOW I OFFER PSYCHOTHERAPY
I work with clients across the UK, and around the world, using Skype, FaceTime & Zoom. There is no need to travel, and you can feel comfortable in your own home. It is free to set up and simple to use, so why not give it a try?
I offer sessions in English
LET US EXPLAIN HOW WE CAN SUPPORT YOU
Book a call with our friendly assessment team, who can listen to your story, help you find the right practitioner, and book you in for a discovery session to meet with one of our therapists.
We value being clear and open about our prices, so please check Our Fees before booking a call.