Rebalance
PSYCHOLOGICAL & NUTRITIONAL SUPPORT FOR EATING DISORDERS
What is Rebalance?
Rebalance is our eating disorder help plan, which combines eating disorder nutrition and eating disorder therapy, to support people who struggle with chaotic eating behaviour, obsessive thoughts about food and who are extremely critical of their bodies.
Eating disorders can take hold after a while, and dominate your mind and behaviours. Our Rebalance programme will provide you with eating disorder nutrition to calm your body and mind, this in itself will reduce anxiety and panic and help you feel calmer and more in control.
Targeted therapeutic interventions will help you challenge inner self talk that drives you to maintain unhelpful behaviours, and teach you how to tolerate stress and other emotions without the need to turn to food as a way of coping.
Eating Disorder Treatment at WeightMatters
Here at WeightMatters we really understand the issues you face with your body and weight. We have many years of experience working with people who struggle with damaging and chaotic eating behaviour.
As a result, we know how difficult it can be to tackle the issues you have. We know what works in helping you make changes to your behaviour.
Building on the knowledge, expertise and success we have of providing eating disorder support, we have created our eating disorder help package, Rebalance.
Feel Well
We listen with compassion to your struggle with weight, eating and your health.
Arrange a call with our friendly assessment team, and let us explain how our services can support you.
We value being clear and open about our prices, so please check Our Fees before booking a call.
Rebalance – Eating Disorder Help & Support
Rebalance is our dedicated eating disorder help plan, offering eating disorder support for people who struggle with chaotic eating behaviour, with obsessive thoughts about food, weight and their body.
It has been developed specifically for people who struggle with food restriction, purging behaviour and bingeing.
Our dietitian provides eating disorder nutrition and will guide you towards recovery. She will help you take control of your eating, even if you are scared and unsure of the changes you need to make.
Our counselling and psychotherapy team provide eating disorder therapy to challenge your broken thinking and eating disorder behaviours that are keeping you stuck and trapped. Together you will find new ways to manage stress, anxiety and life events in a healthier way, so you no longer need to turn to food as a way of coping.
Rebalance offers the opportunity for you to gain the eating disorder support you need to move on and improve your relationship with your mind, body and your eating.
Rebalance involves a thorough assessment upon starting your treatment with us. Weekly sessions of eating disorder therapy then follow, with fortnightly sessions of eating disorder nutrition. Your therapist and dietitian will work together as a team to guide you towards healthier day-2-day functioning, a better quality of life and eating disorder recovery.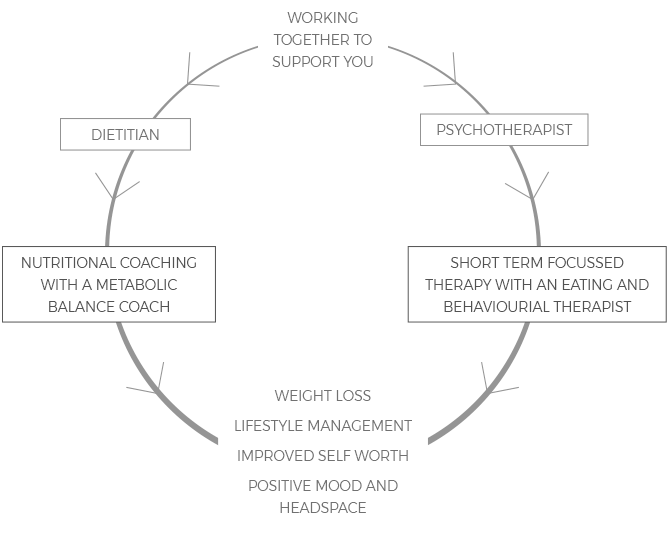 How do I make a start?
So, you've decided that you want to embark on your journey with us and want to build a better relationship with food and your body. What do you do next? Get in touch with us either by phone, email or the form at the bottom of this page.
We will arrange an initial assessment with you over the phone, which will take around 15-minutes. Once we have learned more about your personal story and requirements, we will schedule an initial discovery session with our eating disorder therapy team. After this we will also arrange a 10-minute call with our dietitian to discuss how the eating disorder nutrition will work.
Our Rebalance programme includes a combination of
Counselling & Psychotherapy
4 x 50-min sessions
Dietitian Support
1 x 90-min initial session
2.5 hours of flexible time
I now have a much better relationship with food and exercise; I am of a healthy weight, but more importantly, I realise what triggers my condition; and above all else, I have learnt to prioritise my own happiness, accepting imperfections in myself. For this, I cannot thank the clinic enough
* Disclaimer – Results may vary from person to person
CHOOSE YOUR REBALANCE TEAM
& YOUR PAYMENT OPTIONS
Our calculator below allows you to choose online rates for your therapy and nutrition team.
There is a small additional charge for any in-person sessions.
If you would like to spread the cost of the programme, there is a £25 admin fee to pay in instalments.
Learn more about Rebalance
Here are some articles and blogs about rebalance