Sabine Tendas
Transactional Analyst Therapist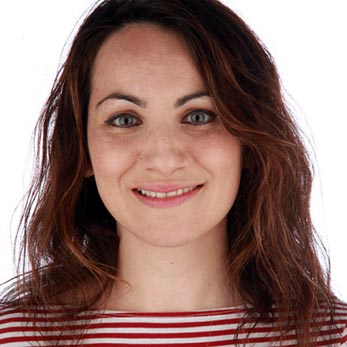 EATING IS MORE THAN FEEDING A BODY, IT IS A SENSORIAL EXPERIENCE AIMED AT SELF-NURTURING
During my teens I struggled with my weight especially because, as a dancer, I felt the pressure to keep a good fit. The experience I had living in Brazil taught me that every body shape can dance, far from western stereotypes. Dancing definitely helped me getting in touch with my body needs and therefore with food management. I learnt to listen to my hunger stimulus and to distinguish whether it is real (physical) or emotional. Mindful eating helped me to approach the experience of eating rather than just do it. Eating is more than feeding a body, it is nurturing ourselves.
My approach
My approach is based on Health Psychology, Mindfulness, Body Work and Transactional Analysis Psychotherapy. I am a fully qualified psychologist in Italy and I am a Psychotherapy student in advanced training.
As a therapist, what I look at is not only the symptoms you carry on but also at your history and identity; this will help us to better understand your current situation and connect past and present. My aim will be to offer you a welcoming and non-judgmental space where you can express yourself freely.
Body, food, and care
As people we are a whole of body and mind and often the distress that cannot be conveyed with words, but it expresses itself through the body: our work together will comprise listening to its messages and make them available to the mind. I have been always interested in psychology of food, and I have been fascinated by the studies of mother-child relationship. When a mother feeds her baby, she is not only providing milk and nourishment, but love and safety as well. Every time we eat, we are not only introducing food, but we are also attending emotional needs. Food can be a mean to suffocate our fears, our anger, our sadness, our anxiety and so on. Sometimes we need to recreate a safe space; food most of time plays the role of a safety blanket. Together we will attend to the food-emotions dynamics that affects your daily life.
Working together
I will be paying attention to the thought processes and emotions, as well as the body language that may arise in the therapy room. I will be interested in hearing about your current difficulties as they happen in your life right now and how they are affecting your daily life. We will work alongside, and as a witness I will help you to discover and accept yourself.
I will support you to explore new behaviours that may decrease your distress, I will encourage your self-expression and kindly I will invite you to explore your past experiences as a way to help you to re-think your current difficulties. I truly believe that the capacity to experience deep feelings and sharing them in a safe space could increase awareness and lead to a therapeutic change, especially in relation to food and body weight.
My experiences
I have international experience in Italy, Spain and Brazil. I facilitated children, teenagers and adults to achieve autonomy and improve their emotional wellbeing. I worked with couples and family helping them to better communicate and manage their daily life. In Brazil, I facilitated groups of women in achieving a meaningful relationship with their body. We worked with the aim to improve their relationship with food and emotions using expressive movement, creative techniques and relational approach.
DAYS I'M AVAILABLE AT WEIGHTMATTERS
Here are the days I can see you in person or connect with you remotely
MY FEES
STANDARD SESSION
£90
STANDARD 6-SESSION BLOCK
£470
OFF PEAK
£75
OFF PEAK BLOCK
£390
QUALIFICATIONS & TRAINING
2017-2021 – MSc Transactional Analysis Psychotherapy, Metanoia Institute London
2020-2021 – Foundation Course in Dance Movement Psychotherapy – Roehampton
2020-2021 – Working With Children And Adolescents Using Transactional Analysis Psychotherapy, ITAT Turin, Italy
2020 – First Level Of Gottman Method For Couples Therapy, ISC International
2020 – Making Arts That Matter: A Multi-Modal Expressive Approach To Enhance For Eating Disorders, BPS London
2020 – Working With Anxiety And Panic Attack Disorder Using CBT, Beck Institute, Rome, Italy
2018-2019 – Mindful Eating, FCP Rome, Italy
2015 – MSc Psychology, University of Turin, Italy
2009 – BSc Health Psychology, University of Cagliari, Italy
MEMBERSHIP OF PROFESSIONAL BODIES
Italian Order of Psychologists (Piedmont Section)
Member of BPS
Member of the BACP
Member of the UKCP
HOW I OFFER PSYCHOTHERAPY
I work with clients across the UK, and around the world, using Skype, FaceTime & Zoom. There is no need to travel, and you can feel comfortable in your own home. It is free to set up and simple to use, so why not give it a try?
I offer sessions in English
LET US EXPLAIN HOW WE CAN SUPPORT YOU
Talk with our assessment team, who can listen to your story and needs, and help you find the right practitioner for you, and book you in for a Free 30 Minute session to meet with one of our therapists.