What Is Metabolic Balance Plus?
Through our experience of running Metabolic Balance at WeightMatters, some people need more rigorous psychological support to help them maximise their weight loss results and change their eating behaviour.
Metabolic Balance Plus gives you just that with expert short-term focused therapy to help you get your mind on track with the psychological, emotional and behavioural changes that are part of Metabolic Balance.
How Do I Know If I Need Metabolic Balance Plus?
Do you find yourself sabotaging your weight loss efforts? At times do you reach for food to comfort yourself after a stressful day? Does changing the way you eat fill you with fear? Do you believe you will fail at Metabolic Balance?
If you can answer YES to any of the above, then Metabolic Balance Plus is for you. In the same way your body is being rebalanced with optimal nutrition, your thinking needs de-cluttering and updating. Combine the two together and you are onto a winning formula for weight loss success.
REMOTE SESSIONS – WORKING ONLINE WITH OUR TEAM
The current COVID-19 (Coronavirus) global situation is affecting us all.
We understand that the uncertainty and disruption to daily life this brings, can be an extra burden for people who are already struggling with their eating, weight and mental health.
All of our therapists are experienced in delivering remote sessions using Zoom, Skype and FaceTime, which means your therapy can continue online without disruption.
Our four central London locations currently remain open, and we are happy to see you in person as well.
Please book a call with our friendly and experienced assessment team who can explain how remote sessions can work for you.
SPRING PROMOTION
Each year, in acknowledgement of Eating Disorder Awareness Week (2nd-8th March 2020), we have a Spring Promotion to provide greater access to our services.
We want to support people, who struggle with their weight and eating behaviour, change the mechanisms and patterns that are keeping them stuck.
Our experience tells us this can be achieved through psychological support, nutritional support, or a combination of both.
THERAPY OFFER
Purchase a 6-session block of therapy, and get 1 session FREE
NUTRITION OFFER
Purchase any nutrition package, and get 1 session FREE
T&Cs
This offer is available with all of our therapists, at all price points
This offer is available to new WM clients only
Offer ends on 31st March 2020
Feel Well
Tell us what is going on for you, and let us explain how we can help
What Is Metabolic Balance Plus?
You work with both a Metabolic Balance Coach and one of our Eating and Behavioural Therapists to support you in losing weight, changing your habits and updating your headspace.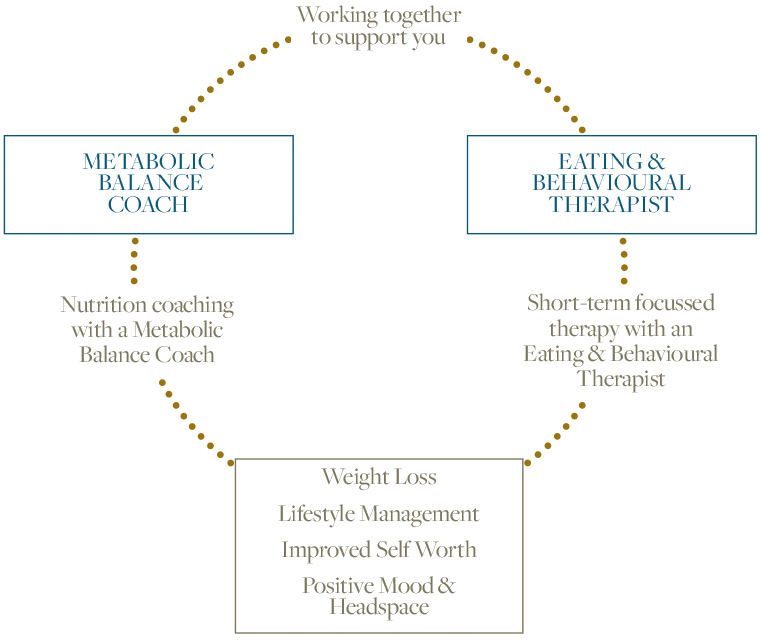 Metabolic Balance Plus at WeightMatters
Eating & Behavioural Therapy
We recommend you start with weekly therapy sessions as you start the Metabolic Balance Plus programme, as this will be the time when we need to challenge your thinking and unhelpful habits. After 4 weekly sessions we then suggest you come every other week in the second month of the programme. You may choose to add on additional sessions if you feel the support is beneficial and it is helping you to stay on track.
Metabolic Balance Coaching
After your initial Metabolic Balance session, you will then come in generally 7-10 days later to go through your personalised eating plan. Your third session in the first month will then be arranged before you start Phase 3 of the programme. We recommend you then have your remaining 3 sessions of Metabolic Balance Coaching on a week you are not seeing your Eating & Behavioural Therapist, so that you maintain weekly support in the second month of your programme. You will then have 1 or 2 sessions of support remaining in your third month of the plan. Once again, you may choose additional sessions of support moving forwards as and when you need them.
Metabolic Balance Plus Programme
Your programme includes:
Metabolic Balance Coaching – 6 sessions with an MB Coach
Eating and Behavioural Therapy – 6 x 50-minute sessions with a Therapist
Therapist
Peak


(one-off payment)

Off Peak


(one-off payment)

Clinical Director
£1,550
£1,550
Assistant Director
£1,470
£1,390
Advanced Therapist
£1,410
£1,330
Senior Therapist
£1,350
£1,270
Therapist 1
£1,290
£1,210
Therapist 2
£1,250
£1,180
Junior Therapist
£1,120
£1,120
If you would like to pay over 3 months there is an overall cost of £50
| Payment plan for the package | £1,550 | £1,470 | £1,410 | £1,390 | £1,350 | £1,330 | £1,290 | £1,270 | £1,250 | £1,210 | £1,180 | £1,120 |
| --- | --- | --- | --- | --- | --- | --- | --- | --- | --- | --- | --- | --- |
| Month 1 | £880 | £836 | £803 | £792 | £770 | £759 | £737 | £726 | £715 | £693 | £677 | £644 |
| Month 2 | £400 | £380 | £365 | £360 | £350 | £345 | £335 | £330 | £325 | £315 | £308 | £293 |
| Month 3 | £320 | £304 | £292 | £288 | £280 | £276 | £268 | £264 | £260 | £252 | £246 | £234 |
| Total | £1,600 | £1,520 | £1,460 | £1,440 | £1,400 | £1,380 | £1,340 | £1,320 | £1,300 | £1,260 | £1,230 | £1,170 |
Learn more about Metabolic Balance Plus
Here are some articles and blogs about metabolic balance plus