What is Self-Sabotage?
Are you stuck in a vicious cycle of comfort eating to soothe how you feel about your body? Do you feel like you are repeating the same old pattern with food, again and again?
Managing Emotions
Our mood is affected by many external factors. We can feel trapped in a relationship, anxious about how others may judge us or stressed to our core by working 12-hour days. Over time, if we struggle to manage our feelings, it can feel like we are drowning. Depression can set in, and food can easily become our drug of choice. It can numb, distract and distance us from how we feel.
Entrenched Habits
Comfort eating can become a habit, the longer it continues, we feel more entrenched and stuck. Weight gain is a natural result of our feasting, but somehow we deny the consequence of our actions. As we get bigger, we become increasingly upset about our weight gain, which in turn leads to 'feeling fat' and being disgusted with our body image. What do we do? In some crazy, twisted irony we reach for food to comfort us.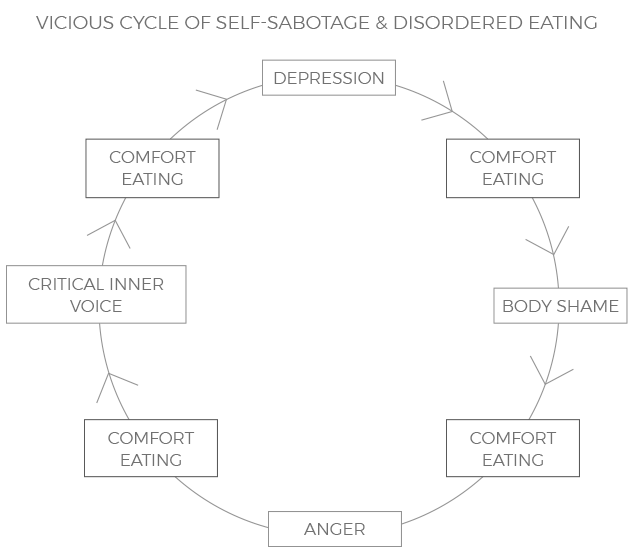 Comfort Eating
There are moments when we come up for air, we can breathe and make sense of what is going on. You feel an urgent drive to diet and lose weight, but of course your need for comfort and eating is so intense, you end up failing. You can see what you are doing, you can see how it makes you feel, but you just can't stop yourself from doing it. Now you feel angry. Why am I doing this to myself? You replay a movie in your mind, incredulous at the way you self-sabotage your weight loss efforts, and make yourself feel so unhappy.
Critical Inner Voice
Your inner voice now goes into overdrive. Do you have a harsh critic that puts you down, telling you how fat and useless you are? You've failed at dieting so many times, why is next time going to be any different. You believe people are judging you, just like you judge yourself. This constant barrage of verbal abuse corrodes your self worth.
Desperate, despairing and feeling hopeless you turn to your trusted companion, food, and the vicious cycle of self-sabotage and comfort eating continues. Feeling trapped and unhappy, depression sets in and maintains the cycle.
REMOTE SESSIONS – WORKING ONLINE WITH OUR TEAM
The current COVID-19 (Coronavirus) global situation is affecting us all.
We understand that the uncertainty and disruption to daily life this brings, can be an extra burden for people who are already struggling with their eating, weight and mental health.
All of our therapists are experienced in delivering remote sessions using Zoom, Skype and FaceTime, which means your therapy can continue online without disruption.
Our four central London locations currently remain open, and we are happy to see you in person as well.
Please book a call with our friendly and experienced assessment team who can explain how remote sessions can work for you.
SPRING PROMOTION
Each year, in acknowledgement of Eating Disorder Awareness Week (2nd-8th March 2020), we have a Spring Promotion to provide greater access to our services.
We want to support people, who struggle with their weight and eating behaviour, change the mechanisms and patterns that are keeping them stuck.
Our experience tells us this can be achieved through psychological support, nutritional support, or a combination of both.
THERAPY OFFER
Purchase a 6-session block of therapy, and get 1 session FREE
NUTRITION OFFER
Purchase any nutrition package, and get 1 session FREE
T&Cs
This offer is available with all of our therapists, at all price points
This offer is available to new WM clients only
Offer ends on 31st March 2020
Feel Well
Tell us what is going on for you, and let us explain how we can help
Susan's Testimonial
"I feel like I have struggled with my weight for my entire life and I got to the point where I didn't know if I could ever change it. It took working with the Weightmatters Practice for me to realize that my problems with weight had nothing to do with food. With their support, I am finally losing weight, finding perspective and feeling better about myself. The best part is that this time I know the weight loss is permanent.
Susan, 50*
* Disclaimer – Results may vary from person to person
Treatment for Self Sabotage
We invite you to explore these services for Self Sabotage
Learn more about Self-sabotage
Here are some articles and blogs about self-sabotage