Amit Vyas
Psychodynamic Psychotherapist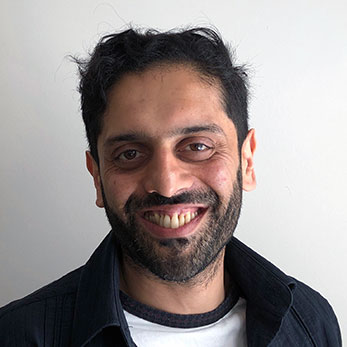 I will help you to explore the connections between eating and your inner emotional life. My first priority will be to help break negative cycles and patterns of eating. I will be your guide, helping you to examine your relationships both in the past and the present – building connections with how they may have shaped your relationship with food.
I am a psychodynamic psychotherapist, which simply means that I work on a deep level to help people understand their personal journey through life, and how their relationships in the past and the present have helped shape who they are.
I have worked in the wider mental health field with people who have severe mental health conditions, as well as those who have had difficult or traumatic life circumstances. I have worked with front line care services and am especially interested in health and wellness. My previous role was as a wellbeing specialist working with a charity. I am fascinated with the science around wellbeing and human optimisation; which is about the lifestyle and behaviours that best help people to flourish as individuals.
I have a personal experience with weight issues as a boy, and have close family members who have struggled with weight issues throughout their lives. From a very young age, I instinctively understood that the weight issues were not due to lack of knowledge about healthy options or lack of personal discipline. The issues were about a struggle to manage overwhelming emotions and sometimes about substituting for a lack of other natural needs. These experiences have brought me to an awareness coupled with sensitivity and empathy about weight issues. Coming from a British Asian background I also understand how different cultural influences can complicate the relationship with food for those who have cross-cultural influences in their lives.
I am fascinated by nutrition, supplementation and the links between food, medicine, training and longevity. In my personal time, I love to learn about these subjects. I practice intermittent fasting, mindfulness meditation and have been a martial artist for most of my adult life. All of which have been my vehicles for personal growth.
DAYS I'M AVAILABLE AT WEIGHTMATTERS
Here are the days I can see you in person or connect with you remotely
DAYS I'M AVAILABLE AT WEIGHTMATTERS
STANDARD SESSION
£100
STANDARD 4-SESSION BLOCK
£360
QUALIFICATIONS & TRAINING
2018 – Mental Health First Aid Course
2018 – Health And Wellbeing Models As Practical Tools For Change
2018 – Working With Neuro Diversity
2018 – Delivering Managing Anxiety Workshops For Healthcare Professionals
2017 – Working With Personality Disorders
2017 – Complex Mental Health Conditions And Supported Living
2016 – Dealing With Workplace Issues
2011-2016 – Post Graduate Diploma in Psychodynamic Psychotherapy
2010 – Foundation Diploma in Counselling Skills
MEMBERSHIP OF PROFESSIONAL BODIES
BACP Member (British Association of Counsellors and Psychotherapists)
HOW I OFFER PSYCHOTHERAPY
I work with clients across the UK, and around the world, using Skype, FaceTime & Zoom. There is no need to travel, and you can feel comfortable in your own home. It is free to set up and simple to use, so why not give it a try?
I offer sessions in English
LET US EXPLAIN HOW WE CAN SUPPORT YOU
Book a call with our friendly assessment team, who can listen to your story, help you find the right practitioner, and book you in for a discovery session to meet with one of our therapists.
We value being clear and open about our prices, so please check Our Fees before booking a call.