Chloe Adam
Nutritional Therapist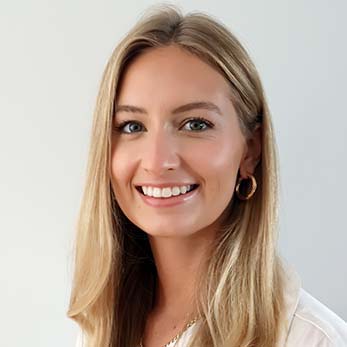 I have always had a passion for health and fitness, both in my own life and in how I can support others to do the same.
I began my academic health journey by studying my BSc (Hons) in Psychology. I then suffered with my own health condition and went on to find the power of Functional Medicine and nutrition, which emphasises how the body is made up of many interconnected systems all dependant on good nutrition and lifestyle choices. I went on to train as a Nutritional Therapist in Functional Medicine and Personalised Nutrition and used this knowledge to heal my own health condition and restore balance in my body. I understand that every person, and every journey is different. Therefore, every nutrition and lifestyle regime should be personalised and supportive of your lifestyle and preferences.
My area of speciality includes gut health due to my own experience, and also due to how essential it is to so many areas of health including, weight management, energy levels as well as mood and mental wellbeing.
My goal is to offer supportive, judgement free consultations with the aim of providing sustainable and personalised nutrition and lifestyle plans to help you to reach your health goals. I also offer personalised supplement programmes and the option of functional testing dependant on your personal preferences.
DAYS I'M AVAILABLE AT WEIGHTMATTERS
Here are the days I can connect with you remotely
MY FEES
90 min consultation
£150
60 min follow up
£135
40 min follow up
£110
QUALIFICATIONS & TRAINING
Postgraduate diploma in Personalised Nutrition
BSc (Hons) in Psychology at the University of Sussex
Qualified Neuro-Linguistic Programming Coach
MEMBERSHIP OF PROFESSIONAL BODIES
Registered Nutritional Therapist
Member of The British Association for Applied Nutrition and Lifestyle Medicine (BANT)
Registered member of The Complimentary and Natural Healthcare Council (CNHC)
Qualified Neuro-Linguistic Programming Coach
HOW I OFFER PSYCHOTHERAPY
I work with clients across the UK, and around the world, using Skype, FaceTime & Zoom. There is no need to travel, and you can feel comfortable in your own home. It is free to set up and simple to use, so why not give it a try?
I offer sessions in English
LET US EXPLAIN HOW WE CAN SUPPORT YOU
Book a call with our friendly assessment team, who can listen to your story, help you find the right practitioner, and book you in for a discovery session to meet with one of our therapists.
We value being clear and open about our prices, so please check Our Fees before booking a call.