Daljinder Bal
Integrative Psychotherapist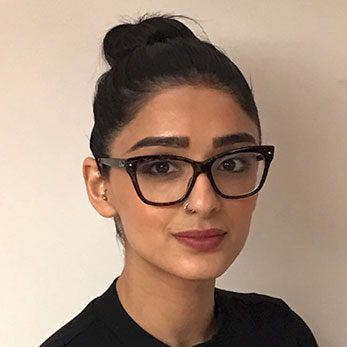 THROUGH CREATING A SAFE AND TRUSTING RELATIONSHIP WE CAN UNRAVEL THE STRUGGLES YOU MAY FACE WHEN IT COMES TO YOUR EATING PATTERNS AND BODY IMAGE CONCERNS
My own process
Having grown up in both eastern and western cultures I picked up many mixed messages. My eastern heritage was telling me that it was inappropriate to express feelings and to share them with others. Whereas my western influence was informing me that it was OK to feel, and that a problem shared is a problem halved. This tug of war sparked up in an interest to want to understand human behaviour. Alongside entering my own therapy, I decided to study psychology and train as a psychotherapist. It is where I learnt that we can create many coping behaviours to deal with difficult events and experiences in our lives and these may be played out within our mind and body.
Relationship with food, body and weight
I believe this tug of war is something we may all experience, it may just show itself in different forms and contexts. One way it may arise is through our relationship with our body, our weight and the way we consume food. Though we may be taught that food is an essential element to our survival, we may in fact use it as a coping mechanism. I believe that disordered eating and body image issues can manifest as a means of coping with difficult life experiences. For instance, restricting food consumption, or using it as a means to binge can be symptomatic behaviours of many underlying issues of which we may not even be aware of. It can be a way of trying to keep control when other parts of our lives may seem so out of control.
How I work
My work involves in creating a safe and non-judgmental space, to explore the relationship a client may have with their eating, weight and body. I am very much client led and aim to work alongside the client, helping them to make links, connections and creating an understanding of their eating patterns. I promote psycho-education in order to challenge clients for change. One of the reasons that I decided to become a part of the team at WeightMatters is not only can a client receive therapeutic understanding, but they can also receive practical support, be it through nutritional or dietician support, to help tackle their food and body related struggles.
DAYS I'M AVAILABLE AT WEIGHTMATTERS
Here are the days I can see you in person or connect with you remotely
MY FEES
STANDARD SESSION
£120
STANDARD 4-SESSION BLOCK
£440
QUALIFICATIONS & TRAINING
2020 – Healing The Trauma Wound
2020 – Trauma Skills Training, nscience UK
2019 – Transactional Analysis Concepts
2018 – Acceptance And Commitment Therapy
2017 – Advanced Diploma in Integrative Psychotherapy, Regent's University London
2014 – Post-graduate Diploma in Counselling and Psychotherapy, Regent's University London
2010 – Foundation Degree in Counselling and Psychotherapy, Regent's University London
2009 – BSc (Hons) Psychology, Southampton Solent University
MEMBERSHIP OF PROFESSIONAL BODIES
Full Clinical Membership of UK Council for Psychotherapy (UKCP)
Individual Member of British Association for Counselling & Psychotherapy (MBACP)
HOW I OFFER PSYCHOTHERAPY
I work with clients across the UK, and around the world, using Skype, FaceTime & Zoom. There is no need to travel, and you can feel comfortable in your own home. It is free to set up and simple to use, so why not give it a try?
I offer sessions in English
LET US EXPLAIN HOW WE CAN SUPPORT YOU
Book a call with our friendly assessment team, who can listen to your story, help you find the right practitioner, and book you in for a discovery session to meet with one of our therapists.
We value being clear and open about our prices, so please check Our Fees before booking a call.