Patience Destiny
Integrative Counsellor and Psychotherapist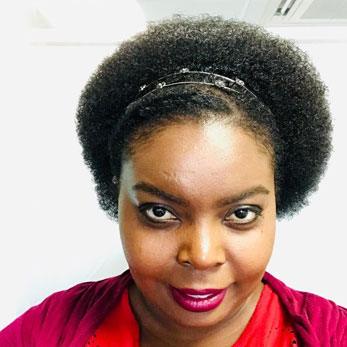 The goal is to be able to relate with/to food in entirely new healthier positive ways; to work through the ghosts of past food-relationships. My work with you is to collaboratively explore how your unaddressed emotions, stress, societal norms/values, issues in other areas of your life manifest in your lived experiences/relationships with food and your body image.
I am aware how societal beauty norms/yardsticks/values affect our body image; How the outside world impacts our inner world, which in turn manifests in our feelings of self-worth, how we relate to food and our bodies, using food as a crutch in difficult periods, as a reward/coping mechanism. We would work towards a guilt-free/shame-free relationship with food, to be able to view/relate to our bodies positively and not through the prism of others' view of us.
My approach to this Therapeutic work is Integrative (Humanistic/Person-Centred, CBT/Cognitive Behaviour & Psychodynamic), using more than one approach to support you as you tap into your innate strength, capabilities & resources, for the changes you need towards your desired mental, body-image and emotional whole-wellbeing. My therapeutic work is geared towards You – the client's wellbeing and whole-being, by offering counselling support in a safe, confidential, nurturing, non-judgemental space.
You are the expert authority on what makes You uniquely You – I'll support you as you work towards Empowering & revealing to yourself clearer, newer, alternative, positive, grounded, manageable understanding of yourself, your relationship to food, your body, exercise and the world around you.
My Relationship With Food & Body-Image
My own experience has led to me to believe that our bodies support us throughout our lives, food is nourishment and not punishment to them. Having grown up in East Africa and now living/working in the UK, my views on food/body-image have been informed by the varying approaches in the 2 societies. Food as a means of communal enjoyment/community building, rather than something to be weighed & calorie-counted.
DAYS I'M AVAILABLE AT WEIGHTMATTERS
Here are the days I can see you in person or connect with you remotely
MY FEES
STANDARD SESSION
£110
STANDARD 4-SESSION BLOCK
£400
QUALIFICATIONS & TRAINING
2010 – FdSc Degree, Integrative Counselling – University of Greenwich, London
2007 -Diploma, Integrative Counselling Skills – Bromley College of Further & Higher Education (BCCS)
2021 – Trauma-Informed Governance & Therapy in Rwanda
2013 – Play for Healing & Growth (exploring the positive power of play, humour, laughter in life & in the therapeutic environment)- Bromley BCCS
2013 – Attachment & Character Strategies – Bromley BCCS
2012 – Dissociation (an exploration of dissociation as a self-regulatory process & survival mechanism) – Bromley BCCS
2012 – Introduction to Mindfulness – Bromley BCCS
2011 – Eating Disorders – Bromley BCCS
2010 – Mental Health First Aid Course – Beckenham Beacon Hospital
2009 – Managing Risk within Counselling – Bromley BCCS
MEMBERSHIP OF PROFESSIONAL BODIES
HOW I OFFER PSYCHOTHERAPY
I work with clients across the UK, and around the world, using Skype, FaceTime & Zoom. There is no need to travel, and you can feel comfortable in your own home. It is free to set up and simple to use, so why not give it a try?
I offer sessions in English
LET US EXPLAIN HOW WE CAN SUPPORT YOU
Book a call with our friendly assessment team, who can listen to your story, help you find the right practitioner, and book you in for a discovery session to meet with one of our therapists.
We value being clear and open about our prices, so please check Our Fees before booking a call.