Weight Loss
Psychological and nutritional support to help you lose weight
How We Can Help You With Weight Loss
Weight loss is a complex minefield for some people, while for others it is all about following a structured eating plan.
No matter how complicated your relationship with weight, eating and your body, we have programmes and packages to help you lose weight, and then maintain your weight loss.
Our 11+ years of experience in this field gives us the expertise and confidence that we can provide the right balance of support for you.
We believe psychological and nutritional support is the optimal formula for weight loss. Our Shrink and Metabolic Balance Plus weight loss programmes combine therapy with nutritional coaching that provide you with practical and psychological tools you need for weight loss, and potential life changing results.
Do You Struggle To Lose Weight?
Feeling fat and heavy, struggling to lose weight, a sense of deprivation when you diet, and poor self-worth are all aspects of obesity. For many people it is not so easy to just follow a calorie-restricted diet and exercise more. We have so many emotional, relational and behavioural associations to eating, which can make it feel impossible to lose weight. Our headspace, habits and emotional soothing are all connected to how and what we eat.
Do any of the terms on the graphic below resonate with you? How long have you struggled with your weight? For some, obesity and weight issues start in adult life, but for many weight has been a struggle for most of their life. We will help you unpack the associations, messages, decisions, patterns and beliefs that keep you trapped in a continuous struggle with your weight.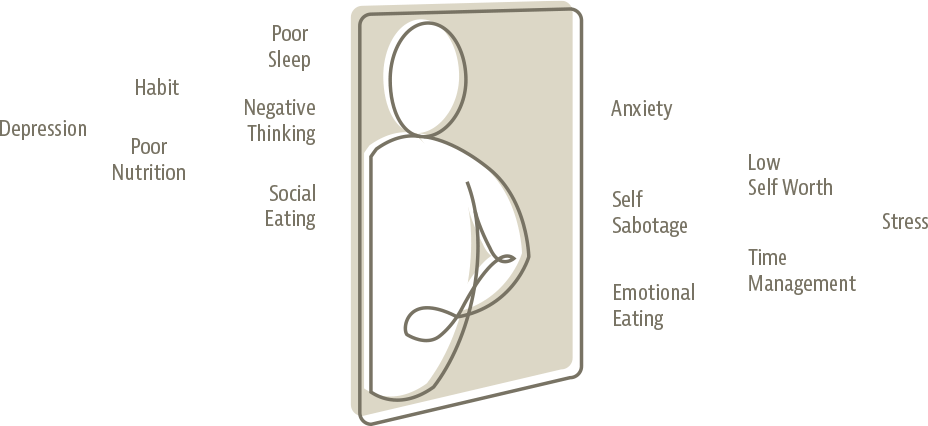 Weight Loss At WeightMatters
We have psychological support in the form of weight loss counselling and weight loss therapy, which both look at how our thinking and emotions influence our behaviour. Weight management coaching focuses more on behavior change through a coaching framework.
Nutritional support comes from both our dietician and nutritional therapist who can create healthy eating plans for you. Metabolic Balance is a hugely popular weight loss programme which is created around your current health status and food preferences.
We have also created several weight loss packages that combine both psychological and nutritional support. Shrink is suitable for people who have been stuck in a cycle of continuous yo-yo dieting and self sabotage, while Metabolic Balance Plus gives the structured eating pan of Metabolic Balance in combination with weight management coaching from our therapy team.
Group support is very supportive for weight loss, and we have new groups starting every few months. Our workshops provide specific and targeted interventions to help you tackle binge eating, which in turn will help you with weight loss, and they give you tools to help you change your eating behaviour.
Let Us Support You In Your Weight Loss
Finding the right weight loss solution to meet your individual needs is important. Please complete the form below, email or call us and we will arrange a 15-minute call to listen to your weight story, and then explain which options we think will be best for you.
From Our Blog
Weight Loss Counselling
Do you struggle to lose weight? More and more people struggle with their weight and obesity....
How is our Gut Microbiome Linked to Weight Gain and Obesity?
The gut is the largest endocrine gland in the body and it has its own nervous...
How can nutrition contribute to the treatment of clinical depression?
With more and more people experiencing mental health problems, such as depression and anxiety, it is...